In this article
S Loyalty is partnering with ReferralCandy to integrate their refer-a-friend feature into our loyalty program. By integrating this refer-a-friend feature into S Loyalty, you can reward your customers with loyalty points for referring their friends to your store and make purchases. Your customers can become your brand's best advocates and be rewarded with points for promoting your business.
Integrate ReferralCandy into S Loyalty in 5 minutes!
Go to S Loyalty > Referrals.
If you are using ReferralCandy, choose "Yes, I have an account."
If not, please choose "No, I'm a new user" and follow the instructions to install ReferralCandy. You can sign up with ReferralCandy via your Shopify Account. Note that you must be logged in to your Shopify store account for the ReferralCandy to be completed.

On your ReferralCandy dashboard, go to Profile > My Profile.
Find your API access ID and secret key under API Tokens.
Click the copy buttons to copy your API tokens.


Go back to S Loyalty and paste your API tokens here. Press Submit.

Next, set up a referral reward with the instructions in the next section.
Setup a Referral Reward
On your ReferralCandy dashboard, go to Campaigns > All Campaigns.
Select your Live campaign and go to the Rewards page.
In the Advocate Reward tab, select Custom.
Customize the message that you'll show advocates based on the loyalty points you set up in SLoyalty. Edit the text field under "Get... for referring friends!" (E.g: "100 points")

Go back to S Loyalty and click "Setup Referral Reward".
Enter the same number of points in your S Loyalty Console > Referrals and click "Save".
Congrats! You've fully set up your referral program. Your customers will now be able to see this reward offer on your store.
FAQs
What reward can I set for my advocates?
You can give loyalty points to your advocates when their friends buy from their referral links.
How do customers earn points?
Customers who have registered a store account will see the Refer a Friend link under Earn tab in the loyalty overlay like the screenshot below.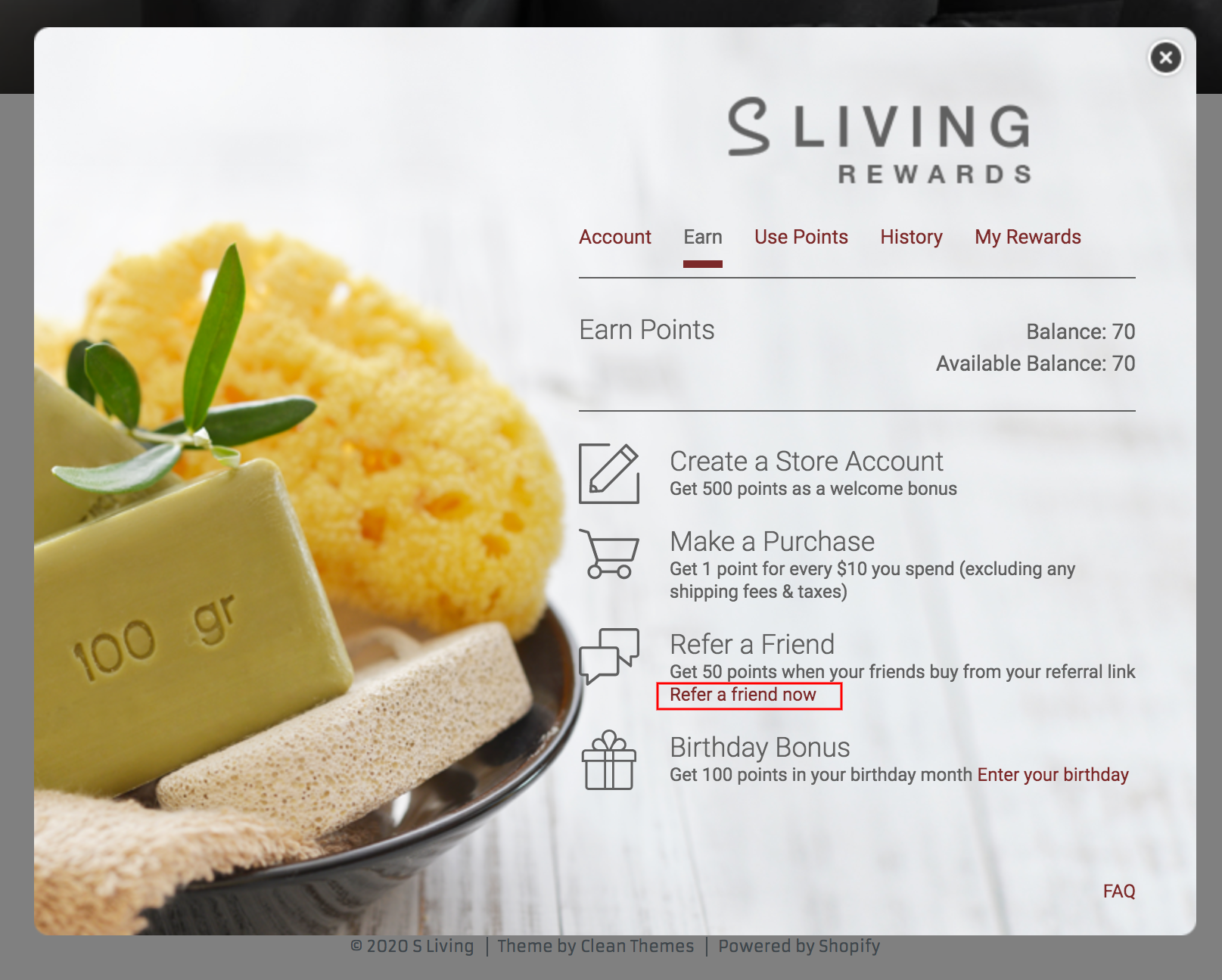 By clicking on the link, the customer will be redirected to the ReferralCandy sharing page where they will be able to share your store via Facebook / Email or other channels.

When the customer's friends click on the link and make an order on your store, you will see the rewards are pending for your approval under ReferralCandy Integration Settings -> Rewards. Please note that these rewards are added for advocates with a loyalty account with your store. Once you approve the pending rewards, the customer will see the loyalty points in their loyalty account.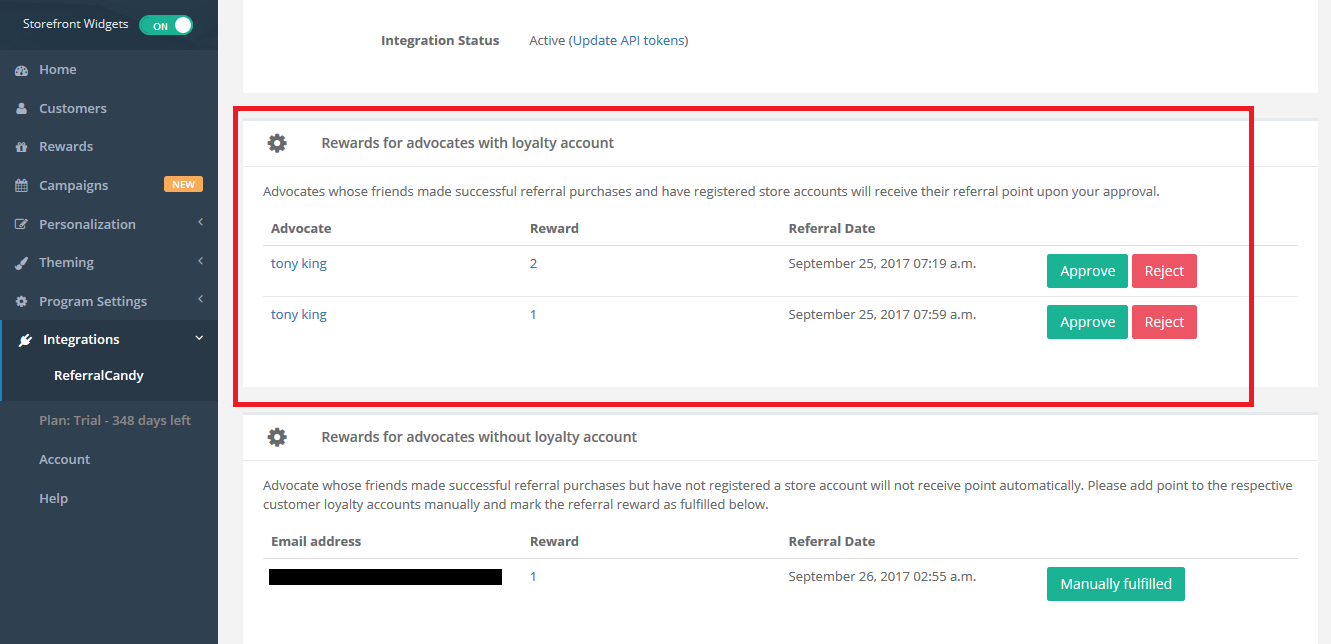 Can I give advocates without a store account rewards manually?
Advocates who did not register a store account will not receive points automatically. You will need to manually add points to their loyalty accounts after they create their store accounts. You can mark the reward as manually fulfilled after adding the points to clear the reward from your dashboard.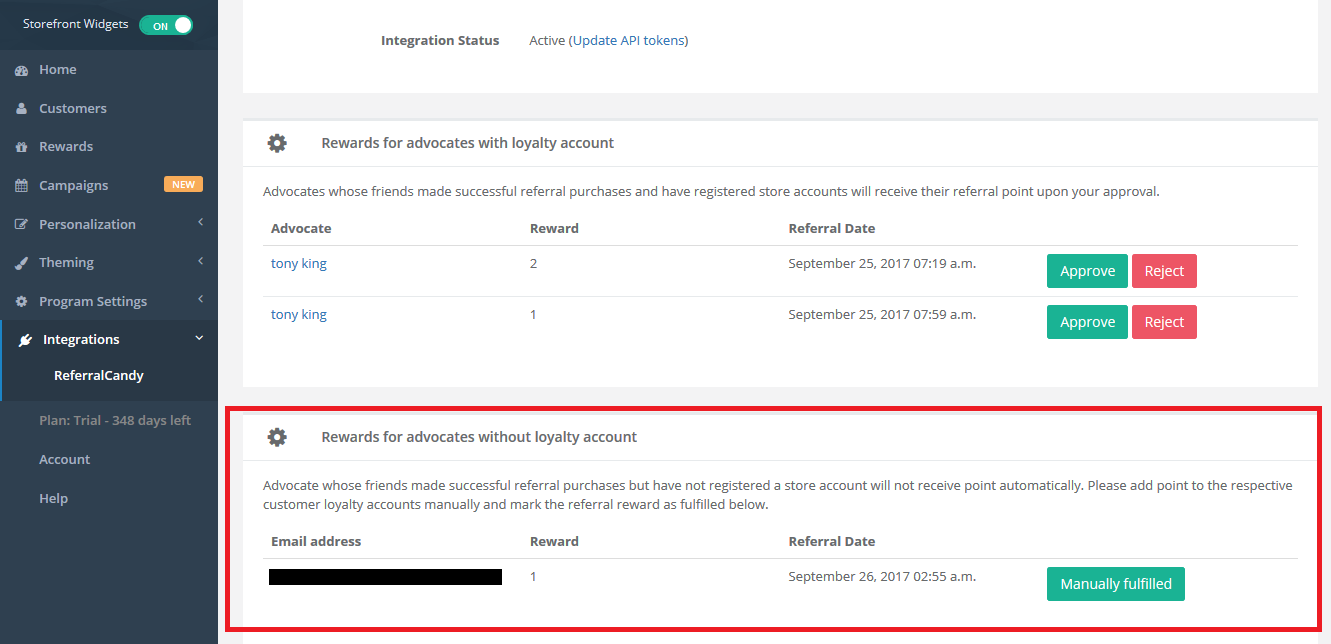 You can see the list of rewards for advocates without a loyalty account under ReferralCandy Integration Settings -> Rewards for advocates without a loyalty account.

Will you send any email to my advocates or customers?
No. S Loyalty does not send any notification email to your advocates or customers. All emails regarding the referrals are sent from ReferralCandy.

Is there a link I can add to my marketing emails and ask customers to refer friends?
Yes. Add the following link in your marketing emails and customers will see the loyalty overlay when they arrive at your store. They can then click "Refer a friend now" to access the referral portal and refer friends via email or social media after signing in.

http://YOUR STORE DOMAIN/?rewardsmgr=refer

What are the costs to integrate ReferralCandy?
There is no additional cost to integrate ReferralCandy to S Loyalty. ReferralCandy has a special offer for S Loyalty customers who install the app (60-day free trial and $39.99/month + 3% commission fee).
For more info about how ReferralCandy works, please refer to their Help Center or reach out to them directly.