Setting Up "Pay with Points" Feature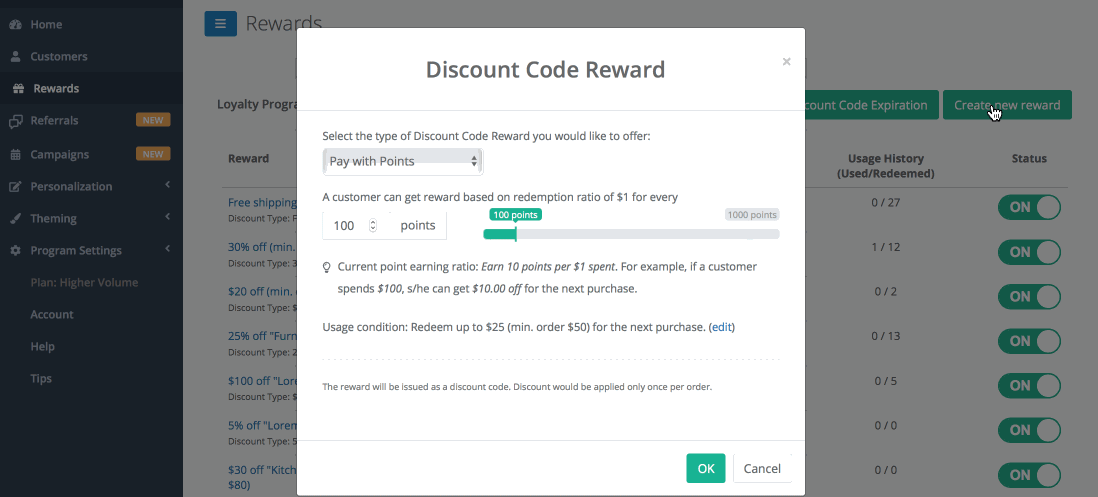 New Shopify merchants will be able to select this feature in the setup wizard at installation. Please follow the steps!
Existing users for the paid version of S Loyalty 2.0 can use this advanced discount code reward feature. Please take the following steps in the S Loyalty merchant console:
Go to Rewards > Create Reward

Choose "Pay with Points" from the drop down menu

Set the number of points needed to redeem a $1 currency equivalent
You will see one of two displays based on the point earning rule you have chosen for your loyalty program. You can learn more about about "point earning rules" in our blog post.
If you chose "earn X points for every $1 spent" (e.g. 5 points per US $1), you will see: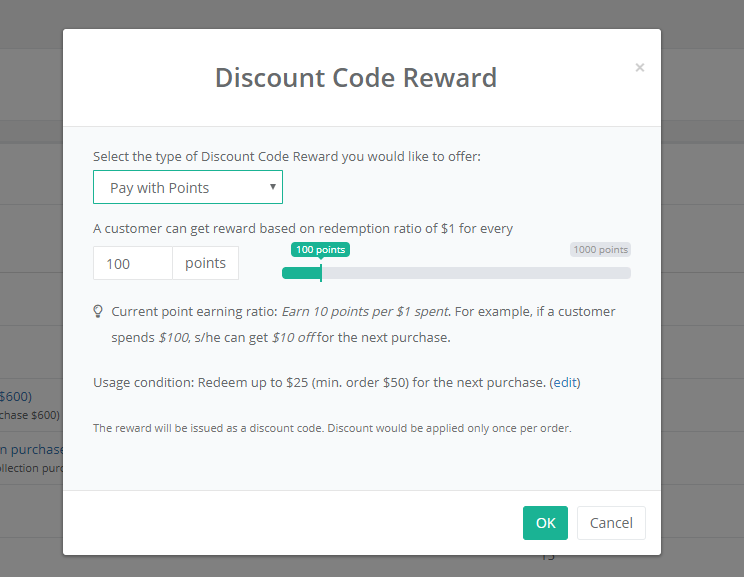 This is likely for currencies such as the American Dollar, Australian Dollar, Canadian Dollar, Euro, British Pound. You can drag the slider to increase the points needed to earn $1 in the store's currency.
If you previously chose "earn 1 point for every $X spent", (e.g. 1 point per JP ¥50), you will see: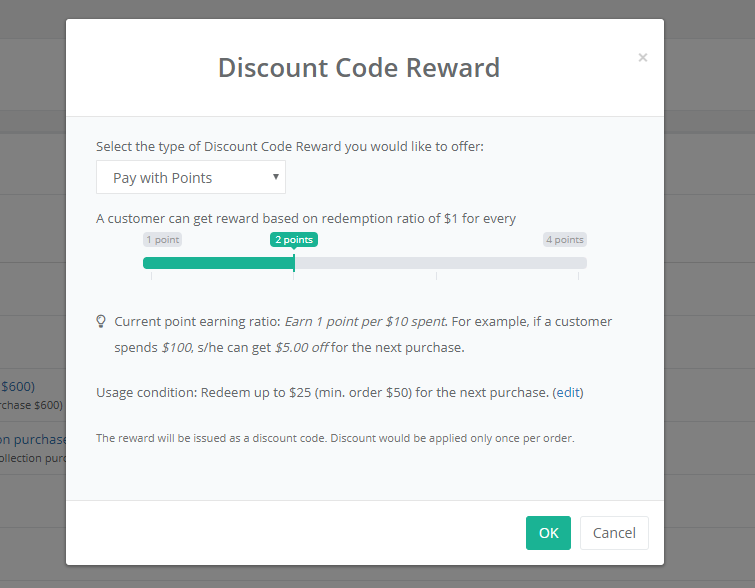 This is likely for high-digit currencies, such as the Japanese Yen, Korean Won, Indonesian Rupiah, and Indian Rupee.You can set the number of points needed for a single $1 in the store's currency. For example, you may set 2 points to get ¥5 off the next purchase.

💡 Tip: The light bulb gives the point redemption ratio and an example of how much a customer would save with your current ratio. The example will change when you move the slider.
Note for users:
Only one active "Pay with Points" reward is available at a time. To change the ratio or conditions, merchants can turn the reward off, then on again by recreating a new one. If the reward is switched "Off", shoppers can use previously redeemed coupon codes, but cannot redeem new ones.

The reward can only be used for order amounts $50 and above and the maximum reward value is $25 for AUD, CAD, EUR, GBP, and USD. We can help adjust the rules if you would like to customize them for your store. Please

write to us

!